Why use
SARA?
SARA HACCP is revolutionizing the traditional way of controlling the safety of the food that is made available to consumers. It is a software application aimed at monitoring Food Safety systems and its objective is to facilitate all daily HACCP plan registration tasks
in a simple, fast and intuitive way.
●  

THE OPINIONS THAT MAKE US GROW
SARA HACCP provides the answer to digital records, the investment in the application pays off quickly, in saving paper and ink cartridge, not to mention that it allows records to be monitored remotely, ensuring that they are carried out and archived accordingly for consultant to the authorities, we rest assured! The fact that they are in English and Portuguese, allows colleagues who do not master Portuguese, to be autonomous in its use, very intuitive. Know and discover the advantages!
Ana Costa
Food Engineer - HANAMI SUSHI
For those who work in the food sector and HACCP is part of their daily routine, SARA HACCP is the element that completes the team, because it facilitates all the bureaucratic part of the work, it is a precious assistant in the management of the whole procedure, and it helps in the effort management of the work team. When I discovered SARA HACCP, I thought someone has materialized what I have been dreaming about for years: - to finish with the reams of paper that we have to deal with to keep HACCP in order. It's very intuitive, SARA is a very valuable element. It has an unsurpassable support, always available. I highly recommend it!!!
Carla Oliveira
Restaurant Manager "O Tasco" in Ovar
As a user of the SARA HACCP software I can say that this is an environmentally friendly product and very easy to use because it is intuitive and attractive. Zero paper and zero to all consumables that such use implies. It is oriented according to the needs of the establishment being totally customized and adapted to reality. It is a food safety management tool available to everyone, just a click away, providing evidence of control over the production process without being "overwhelming" to users. I recommend this working tool to everyone, which will facilitate the practical implementation of the HACCP system.
Susana Sousa
Food Engineer - Hotel and Tourism School in Porto
The SARA tool is much more than just a tool for HACCP. SARA help us to improve and standardize HACCP at various levels, providing Safety for the entire hotel business industry as well as for the consumer, which is a sign of process assurance.
Paulo Gomes
Red Frog - 40th Position of the World's Best Bars
INTUITIVE,

FAST

AND SIMPLE 

SOLUTION
We solve the main challenges encountered by HACCP managers, in retail businesses, restaurants and hotels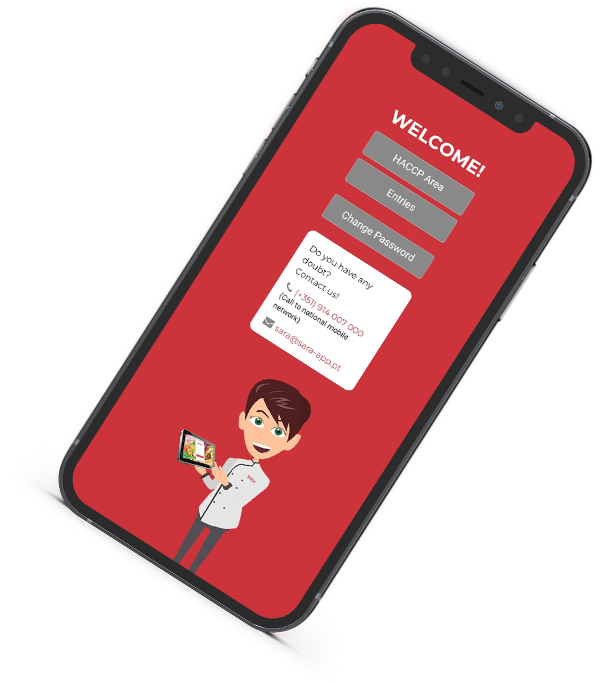 Make a choice according to your needs
Offer of two monthly fees on annual payment
*The presented values are subject to the current legal VAT rate, and an activation fee will also be applied.